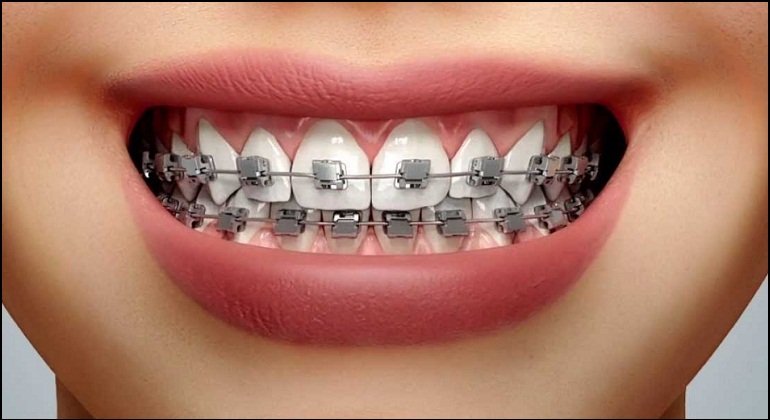 METAL BRACES ARE A RELIABLE AND TRUSTED WAY TO STRAIGHTEN YOUR SMILE
Start your journey to straight teeth with Metallic Brace
Traditional braces are the age-old way to straighten teeth and have been used for decades. The great thing about braces is that they can be customised with coloured bands (called ligatures and elastics). This is why lots of young patients love them as they're completely customisable and your orthodontist can change them each time you visit if you wish. Here at Lane Cove Orthodontics we use Suresmile technology which helps us provide faster treatment times and precise braces treatment.
How traditional braces work.
Traditional metal braces straighten the teeth with constant pressure. Each tooth will be fitted with a bracket which will hold the archwire in place with the help of a ligature. The archwire will be tightened each time you visit Dr Rex or Dr Ballard for your adjustment which will slowly give you the smile you have been aiming for. Metal braces are useful for patients with severe malocclusion or for patients with difficult-to-treat crookedness. Examples of this include patients who have teeth that are overlapping or are erupting too high in the gum line. As your orthodontist can change the position of your archwire regularly the mechanism can be used to bring teeth down into alignment and straighten out virtually any problem.
How to take care of traditional braces.
Traditional braces need to be cared for diligently as food debris can become stuck in the brackets. You'll need to brush and floss every day, while being gentle enough to not compromise your brackets. Brushing after each meal is also beneficial as food debris that is left can cause discolouration over time. After you complete your braces treatment it's also important to wear your retainer diligently as this is the only way to maintain your new straight smile.
Orthodontics for teens
Metal braces are very effective for teens that want a straighter smile and choosing braces for your child can set them up with a great smile for life (which is an invaluable asset). Orthodontics during adolescence is also extremely beneficial as it reduces the risk of requiring orthodontics later in life.
Advanced orthodontic solutions
As well as traditional braces we also offer a number of innovative orthodontic technologies to assist treatment, or provide an alternative. Our alternative treatments include Invisalign, Incognito, orthodontic appliances, Acceledent, Suresmile and specialised scanning technology. We use Suresmile technology to deliver advanced and precise orthodontic treatment, as it helps create a digital treatment plan for braces.